Tuna & Asian Greens Stir Fry
Stir-fries are always so quick and easy.

15 min
PREP

6 min
COOK

4
SERVES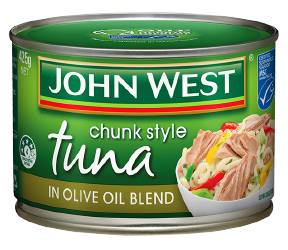 'Protein is important to keep Anabelle strong, which is essential for her to execute complex dives that she performs.'
Kylie Andrew, VIS Dietitian
Ingredients
1 teaspoon sesame oil
1 onion, peeled and thinly sliced
1 stick celery, thinkly sliced
2 bok choy, sliced
1 carrot, peeled and cut into julienne strips
8-10 snow peas, trimmed
2 teaspoons grated fresh giner
2 teaspoons cornflour blended with 1/2 cup water
1 tablespoon soy sauce
425g can John West Tuna Olive Oil Blend, drained
1 Red Chilli, thinly sliced
Method
1 Heat sesame oil in a wok, add onion, celery, bok choy, carrot, snow peas and stir-fry for 3-4 minutes, stirring continually.
2 Add ginger, blended cornflour and soy sauce and cook for 1 minute.
3 Gently stir in tuna and chilli and heat through.
Tip

Stir fry mixture can be served in crisp lettuce leaves
Vietnamese Tuna Rice Paper Rolls
Fresh and delicious rice paper rolls filled with spicy sriracha tuna, carrot, cucumber, mint and coriander.

25 min
PREP

0 min
COOK

8
ROLLS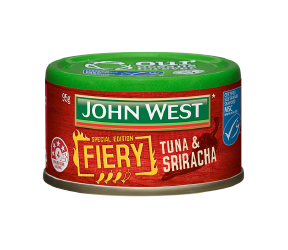 'As a sprinter, protein is important for Isis to maintain her strength and support muscle recovery and repair.'
Elaine Bo, VIS Dietitian
Ingredients
8 rice paper wrappers
30g rice vermicelli noodles, cooked and drained
½ carrot, finely julienned
1 spring onion, finely julienned
½ Lebanese cucumber, finely julienned
2 x 95g cans John West Tuna – Sriracha, drained
2 tablespoons mint leaves
2 tablespoons coriander leaves
¼ cup sweet chilli sauce
1 teaspoon soy sauce
½ teaspoon sesame oil
Lime wedges, for serving
Method
1 Prepare each rice paper wrapper by dipping in warm water to soften. Lay flat and place some noodles, carrot, spring onion, cucumber and ¼ can John West Tuna along the centre. Fold ends of rice paper over and roll to secure, adding herbs towards the end of rolling. This will yield translucent herbs in the rolls. Repeat with remaining wrappers and ingredients.
2 Combine sweet chilli sauce, soy sauce and sesame oil in a small bowl. Serve dipping sauce and lime wedges with rice paper rolls.
Tip

The rice paper rolls can be made a few hours ahead of time and stored covered in the refrigerator.
Salmon Burgers
A speedy version of a traditional salmon pattie, perfect to serve 2 people.

20 min
PREP

6 min
COOK

2
SERVES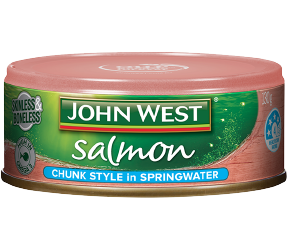 'It's important that Sian's carbohydrate and protein intake is well timed – especially straight after training, to help her recover before starting again the next morning.'
Jessica Rothwell, VIS Dietitian
Ingredients
1 large (300g) potato
130g can John West Skinless & Boneless Salmon in Springwater , drained
125g can Edgell Red Kidney Beans, drained
2 teaspoon chopped fresh dill
½ teaspoon finely grated lemon zest
1 dill cucumber, finely chopped
¼ cup grated tasty cheese
flour, for coating
hamburger buns, cucumber and carrot ribbons, sweet chilli sauce and chips, for serving.
Method
1 Pierce potato skin well then cook whole potato in a microwave oven on HIGH power for approximately 6-7 minutes or until tender. Cut in half and carefully scoop out hot flesh into a large bowl. Mash well.
2 Add John West Salmon, Edgell Red Kidney Beans, dill, lemon zest, dill cucumber and cheese and stir to combine. Form into 2 patties (or 4 smaller patties). Chill for 30 minutes.
3 Coat patties in flour, dusting off any excess and shallow fry in hot oil until golden. Drain on absorbent paper.
4 Serve in hamburger buns with cucumber and carrot ribbons, drizzled with sweet chilli sauce. Serve with chips.
Tip

For a crispy crumb coating, dip patties in flour, egg and panko crumbs.
Sardine Pizza

10 min
PREP

15 min
COOK

4
SERVES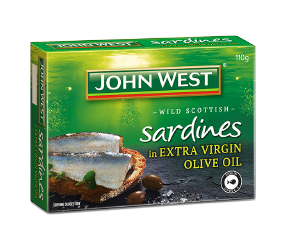 'Adding sardines to pizza is a great way for Barrie to lower the GI of his meal and support sustained energy release – so Barrie won't have any problems concentrating on the green!'
Elaine Bo, VIS Dietitian
Ingredients
4 x 15cm ready-made pizza bases
4 tablespoons Leggo's Pizza Sauce
120g cherry tomatoes, halved
110g can John West Sardines in Extra Virgin Olive Oil, drained
12 black pitted olives, halved
1 cup grated mozzarella cheese
basil and rocket leaves, for serving
Method
1 Spread each pizza base with 1 tablespoon Leggo's Pizza sauce. Arrange tomatoes, drained John West Sardines and olives over bases and sprinkle with cheese.
2 Place pizzas onto a lightly greased oven tray and bake in a preheated oven at 200°C for 15 minutes or until cheese is golden and bubbling. Top with basil and rocket and serve immediately.
Tip

John West Sardines in Springwater can be used as a lower fat option.
Chilli Napoletana Tuna Bake
Tuna bake has to be one of the quickest and easiest meals to prepare for the family.

5 min
PREP

27 min
COOK

4
SERVES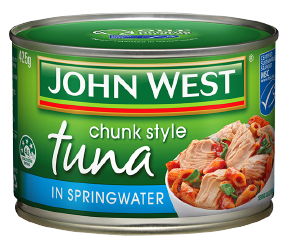 'Damien needs foods high in protein like tuna, to maintain his muscle mass and strength and uphold that Australian World Record'
Elaine Bo, VIS Dietitian
Ingredients
2 cups short pasta
425g can John West Tuna in Olive Oil, drained and flaked, reserving 1 tablespoon oil
½ red and green capsicum, diced
¼ teaspoon chilli flakes
500g jar Leggo's Napoletana Pasta Sauce
⅔ cup grated tasty cheese
Method
1 Cook pasta following packet directions. Drain.
2 Meanwhile, heat reserved tuna oil in a saucepan and sauté capsicum and chilli flakes for 2-3 minutes or until tender.
3 Spoon cooked pasta into 4 individual greased ramekins, spoon over capsicum mixture and John West Tuna.
4 Pour over Leggo's Pasta Sauce spreading evenly and sprinkle with cheese. Bake in a preheated oven at 180ºC for 15 minutes or until golden. Serve immediately.
Tip

John West Red or Pink Salmon can be substituted for the Tuna.
Mackerel Morsels
John West Thai Green Curry Mackerel served on toasted roti bread.

15 min
PREP

4 min
COOK

12
MAKES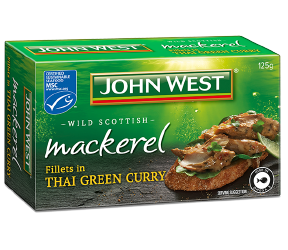 'Mackerel is a perfect to include in the girls' diets, not only does it provide protein to maintain muscle strength and support recovery, it's also packed with omega-3's which provide anti-inflammatory benefits.'
Kylie Andrew, VIS Dietitian
Ingredients
Roti bread, for serving
½ Lebanese cucumber, sliced into ribbons
125g can John West Mackerel Fillets in Thai Green Curry
Sliced spring onion, julienned carrot and baby coriander leaves, for garnish
Method
1 Heat roti following packet directions until warmed through.
2 Cut roti bread into squares and top with cucumber, halved John West Mackerel fillets, spring onion, carrot and coriander leaves. Serve immediately.
Tip

Roti bread can be found in the chilled section of most supermarkets
John West is a registered trademark used under license by Simplot Australia Pty Ltd.